Background
Nikalus Kimla is a founder of more than one successful businesses and companies that are still very much alive and well, even growing. Being an entrepreneur on his own, he managed to create effective sales strategies for all of these businesses.
2011 – Founded Pipelinersales.com, the Pipeliner CRM Software development
2001 – Founded Uptime Slovakia, the expansion of Uptime ITechnology
1994 – Founded the Uptime ITechnologies – the first Apple dealerships in Austria
CEO at Pipelinersales.com
November 2011 – Present
P.O Box 492 Pacific Palisades, CA 90292
Pipeliner CRM is an innovative sales application that enables you, and your sales organization, to gain the competitive edge in sales to win more deals with greater ease. It combines powerful sales productivity tools, a sales process based framework utilizing key components that all winning sales approaches have in common, and effective team collaboration features that help you work smarter. Together these elements help guide you through the process of selling like the pros, making it easier to close even bigger deals.
CEO at Uptime slovakia, spol. s r.o. | Bratislava, Slovakia
October 2001 – Present
CEO at Uptime.at | Vienna, Austria
October 1994 – Present
CEO at The Base W.F.K Gmbh | Vienna, Austria
1998 – 2002 One to One Marketing, Sales
CEO at Card Services Deutschland GmbH & SO Computer Reparaturdienst OEG | Vienna, Austria
1998 – 2002 Responsibly for Accounting
VP Sales for Education at Schindler computer | Vienna, Austria
1987 – 1992 Leading Sales
---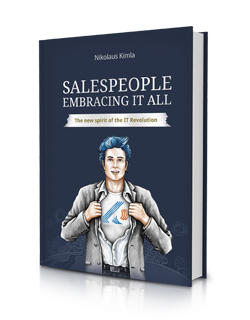 Nikolaus is a productive author and published three full-sized books on selling and the importance of entrepreneurs within the World of business. Alongside many articles he keeps on publishing ebooklets and blogposts addressing the current issues in the world of sales and management.
With traditional CRM shortcomings revealed, a new paradigm for CRM systems and pipeline management can clearly be seen – one which is rapidly being adopted by forward-looking companies today. More…
As a basic principle of sales management beliefs, I have declared CRM tools to be a sham. I have been adamant about this because of my work with over 400 companies who were all seeking to grow dramatically. More…
Large companies in the crisis, the state saves. Who will save small and medium enterprises from the state? The government stresses the small and medium enterprises of all relief, despite their rhetoric to support them. More…
Information technology permeates all areas of life. The real IT Revolution is still to come – the revolution of the strategies. More…
For more recent articles, feel free to visit the articles page.
---

Every person is created with freedom of choice. However, primal fears lead him to retreat into the manageable and build regulatory systems. Particularly in times of change and globalization where regulations protect against lack of orientation ability. The core task of GO AHEAD! is the promotion and support of entrepreneurs in all areas of economic activity.
Nikolaus Kimla spoke on many of the GO AHEAD! meetings and authored forewords and articles published in GO AHEAD! business summit magazines.
2009 – Business Summit – Lessons from the crisis – Learning for the Future
2010 – Business Summit – The Way into the Crisis and Out of Crisis
2011 – Business Summit – The meltdown of the financial system
For more information about participation in GO AHEAD! platform, feel free to visit the GO AHEAD! Publication page.
---
Being a successful businessman Nikolaus is often invited to speak at business meetings and seminars or interviewed for number of business podcasts and other media.
2013 – Nikolaus spoke at the Pioneers festival about the importance of entrepreneurship in business and sales
2013 – Interviewed by Bob Fernekees, the pubulisher of CRM Magazine at Interview at CRM Evolution 2013
2013 – Interviewed On by Kevin Price on The Price of Business
2012 – Speaking on Pipeliner CRM Business Cocktail
For more interviews, speaches and presentation, visit the podcasts or videos page.