Publications
I am an author of a number of publications varying from blog articles to full-sized eBooks available on Kindle. Feel free to browse or leave me a comment.
---
---
In my publications Die IT-Revolution (2008) and Salespeople Embracing IT All (2013) I described how to succeed in Information Technology (IT) and Information and Communication Technology (ICT) in the business world. Having the right "techniques" is not enough. You also have to have the right attitudes, the right mindsets, and the right virtues.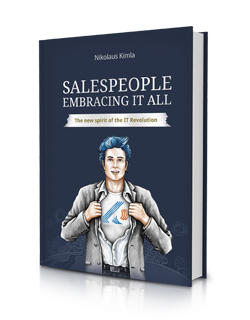 In Die IT-Revolution I attempted to formulate a new and comprehensive attitude toward IT and its use by companies and people. I said that it is not enough that IT merely "functions." If companies use IT solutions strategically, they can also look forward to substantial potential growth and competitive advantages. Gaining these opportunities requires new and forward-looking views, which I discussed as theses. The myriad reactions to Die IT-Revolution have prompted me in this expanded treatment to focus the principles and theses of the IT Revolution toward an ever more important corporate function, namely sales.
The sales department is a key to corporate success more than ever before. It faces new challenges in a time when the Internet has changed a seller's market into a buyer's market. Sales—and the salespeople who do sales—do not get the credit they deserve in many companies. That has to change.
To develop innovative IT solutions for sales, businesses are called upon and required to assign greater value to sales and all the managers and skilled employees working in sales. In my book the Sales Renaissance, I discuss that sales management software in the future has to have a completely new approach to sales. As an example my own Software is a program to support the forward-looking orientation of companies. It drives home the point that attitudes and mindsets are the crucial factors in the successful use of the IT Revolution. Anyone who ignores them runs the risk of being among the losers in the IT Revolution. Those who understand them generate benefits and win. The Publication IT Revolution opens up new perspectives for many people. I hope you will be among them.
---
More Nikolaus Kimla publications
In our previous 2 ebooks, Theory Made Real and Reducing Risk, we demonstrated how Pipeliner CRM is the sum total, in the real world, of sound philosophical business principles. In this our third ebook in the series, we explore all the specific Pipeliner CRM features — many of which are totally unique in the CRM market. Read on…
---
The reason salespeople need a process is because buyers follow exact journeys. If a salesperson isn´t following along, they are going for the close when the buyer is much further back in their journey. That´s a rapidly lost sale. In fact, we should view a sales process as something that helps salespeople, not something that hinders or confines them. Read on…
---
We at Pipeliner are operating on principles instead of values. The difference between these two terms is significant. Values are dependent upon: culture, time, era, language, business sector, geographical location, and other factors. Values are highly contextualized. Principles, on the other hand, are universal and are totally independent of such factors. Read on…
---
Any activity is governed by principles or natural laws. Some are obvious—skydiving, obviously, is governed by gravity. Flying is also subject to gravity, as well as wind and air patterns. Driving an automobile is subject to mass, power, friction, wind resistance, and a number of other variables. Some governing factors are not so obvious. A fantastic example is economics. Read on…
---
For many in Sales, stepping into a sales opportunity is like stepping into a boxing ring. You're going to be throwing punches, ducking and weaving — avoiding blows that could disable you or knock you out. The goal is to remain focused at all costs, not lose your nerve, and engage every tactic at your disposal to win. Read on…
---
How do you build and lead a sales force that wins even in the rough terrain of the sales world? Turn your sales process into a battle plan! Running a sales force is like leading a war with your competitors. The prize is new prospects, new customers, sales, customer retention, and market share. As a sales manager, your troops are your salespeople. You want those troops to be as battle-worthy as possible. You want them to return as winners—for their own satisfaction  as well as the bottom line. You need a sales strategy for your fighting force. Read on…
---
There is more to entrepreneurship than just increasing your revenue. I have been an entrepreneur all my life, have almost worked for anyone else, and would never have it any other way. It is the entrepreneur who is able to see opportunities that others miss, who has the ingenuity to seize them, and the foresight to take advantage of them. It is through their actions that markets are created and that commerce exists at all. Read on…
---
It seems too far-fetched to expect some complex philosophical theory behind selling. Or is it? Salespeople are more than just regular day-to-day workers.They find opportunities where other don't, invest their time and effort to turn them into revenue. They are, in fact – entrepreneurs within the enterprise. However, being a true entrepreneur is more than just experience and educated guesses. Read on…
---
As a basic principle of sales management beliefs, I have declared CRM tools to be a sham. I have been adamant about this because of my work with over 400 companies who were all seeking to grow dramatically and using their CRM tools to reflect their sales process status. Read on…
---
Information technology permeates all areas of life. The real IT Revolution is still to come – the revolution of the strategies. The IT Revolution I published in 2008 is all about IT should increase far above all the efficiency – with the simplest possible, flexible and adaptable strategy. Read on…
---
Large companies in the crisis, the state saves. Who will save small and medium enterprises from the state? The government stresses the small and medium enterprises of all relief, despite their rhetoric to support them. This has massive implications. Read on…
---
Over the last couple of years we have published at the International GO AHEAD! business summits, brochures with very important content. At this stage we only have this in German but it will be also available in English in the near future. Read on…
---
With traditional CRM shortcomings revealed, a new paradigm for CRM systems and pipeline management can clearly be seen – one which is rapidly being adopted by forward-looking companies today. Read on…
---
Reading online magazines and blogs gave me some valuable ideas and insights about business and sales world. That is why I consider sharing my thoughts on entrepreneurship and innovation in IT and CRM very important. Feel free to read articles I wrote for various sites and business blogs. Read on…